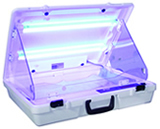 Treat jaundiced infants at home or in hospital with phototherapy
– quickly, safely, easily – with the PEP Bed.
The Fastest Healing Time
The Pep Bed (Ultra BiliLight Model 2000) heals infants faster than any other phototherapy equipment on the market today – including double-banked hospital units.
The American Academy of Pediatrics Clinical Practice Guidelines for the Management of Hyperbilirubinemia in the Newborn recommends "intensive phototherapy" for higher bilirubin babies – as defined by: 1) high light irradiance; 2) as much of baby's skin surface area as possible. The PEP Bed delivers this "intensive phototherapy" better than any other device and provides up to 12-times more Phototherapy Treatment Units than other devices.
The PEP Bed usually treats jaundiced infants within 24-48 hours – others may take up to six days. Clinicians can confidently treat higher bilirubin babies at home or in hospital with the PEP Bed.
Unique Features & Benefits
Improved Parent/Baby Bonding: Because of PEP's intensive bright light therapy, moms and dads have greater freedom to take their baby out of the PEP Bed from time-to-time for cuddling, bonding, feeding. There are no cumbersome tether-cables or nuisance infant restraint garments – no restrictions. What could be more comforting during a stressful time?

No Eye Patches: The PEP Bed offers a hassle-free alternative to eye patches: the Baby Face Shield – a breathable, light-blocking fabric that attaches to the unit, not to baby. It eliminates the need for annoying infant eye patches and allows parents and clinicians to maintain eye contact with baby. The infant is able to have normal eye development during phototherapy.

No UV: The PEP Bed emits no UV light.

Thermostatic Controls: The PEP Bed is the only phototherapy device on the market that incorporates thermostatic controls to monitor the baby's environment within the unit. Sensors guard against extremes of temperature and alert care-givers when to adjust the room temperature. Addresses clinicians' concerns regarding hypothermia or hyperthermia in newborns.

Truly Portable:The PEP Bed is compact enough to fit in a crib. It is lightweight at only 14 pounds.